UK New House Building Policy Debate: "Young Are Right To Be Angry" 2018 06 10
Theresa May: Young are 'right to be angry' about lack of homes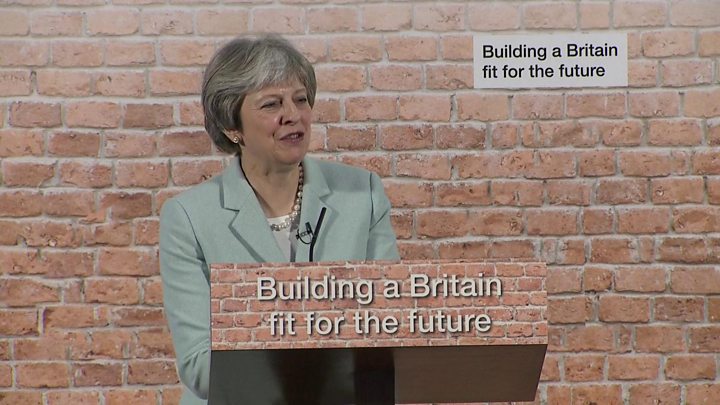 Young people without family wealth are "right to be angry" at not being able to buy a home, Theresa May has said.
Announcing reforms to planning rules in England, the PM said home ownership was largely unaffordable to those not backed by "the bank of mum and dad".
This disparity was entrenching social inequality and "exacerbating divisions between generations", she said.
Labour said Mrs May, who has housing as a key priority, should be embarrassed by the "feeble" measures proposed.
"This housing crisis is made in Downing Street," said shadow housing minister John Healey. "It's time the Tories changed course, and backed Labour's long-term plan to build the genuinely affordable homes."
In her speech to the National Planning Conference. Mrs May said the existing National Planning Policy Framework will be overhauled, pending a consultation, with up to 80 proposals first put forward last year being implemented. The key measures are:
10% of homes on major sites should be available for affordable home ownership
Builders to be more open about affordable housing commitments at planning stage
Councils will have to adopt a new nationwide standard showing housing need in their areas
Infrastructure needs to be considered at pre-planning stage
Councils to consider revoking planning permission after two years if building has not started
Ancient Woodland and aged trees to get specific protection
A separate review, due to be concluded later this year, will look at creating a new automatic right for homeowners to extend upwards and to make it easier to develop agricultural land for housing.
Mrs May said the cost of housing, both for ownership and rent, was reinforcing economic divisions and leading to growing social immobility, with public sector workers unable to take jobs in certain parts of the country.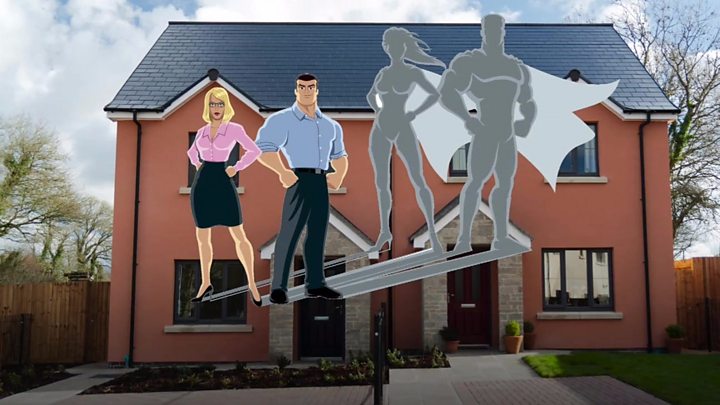 "The result is a vicious circle from which most people can only escape with help from the bank of mum and dad," she said.
"Talking to voters during last year's election campaign, it was clear that many people, particularly younger people, are angry about this.
"Angry that, regardless of how hard they work, they won't be able to buy a place of their own. Angry when they're forced to hand more and more of their wages to a landlord to whom their home is simply a business asset.
"They're right to be angry."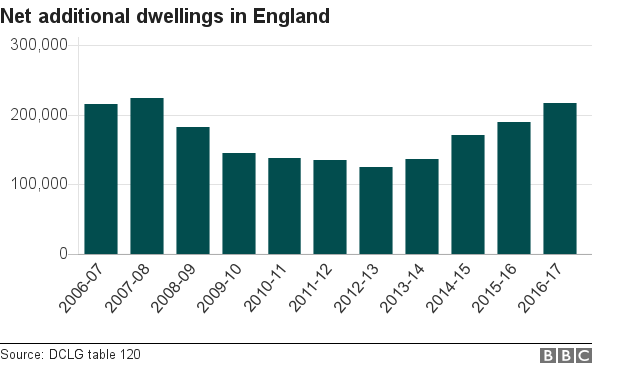 Although the number of planning permissions being granted in England has risen since 2010, the PM said this has not been matched by a corresponding rise in the number of homes being built.
She pointed the finger of blame partly at developers who she said have a "perverse" financial incentive to hoard land once it had been approved for development rather than actually build on it.
She criticised bonuses for construction bosses which are "based not on the number of homes they build but on their profits or share price".
"In a market where lower supply equals higher prices, that creates a perverse incentive, one that does not encourage them to build the homes we need," she said.
---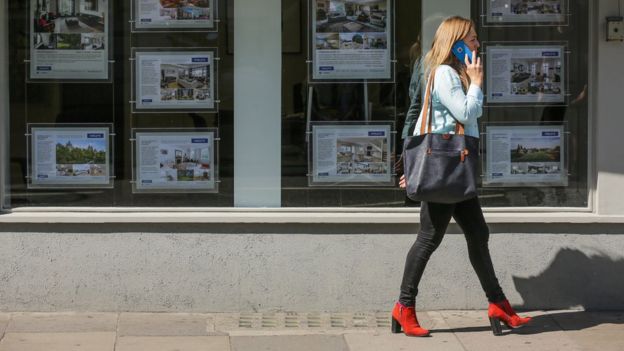 Analysis – by BBC political correspondent Jonathan Blake
Housing is a big issue and the government clearly knows it. Theresa May admitted that the election campaign had showed her "many people, particularly younger people, are angry about this."
So who's fault is it that rents are unaffordable, that accommodation is poor, that home ownership for many is completely out of reach? The prime minister pointed the finger at developers who "game the system". Her housing secretary blamed councils for "nimbyist attitudes".
But both said, too, that there was no "silver bullet". When voters get angry though, they will look for someone to blame. Which is why the government is at pains to show it is taking the housing problem seriously.
It may take more than a reminder of promises already made and an overhaul of planning guidelines to convince people of that. So expect to see Theresa May in a high visibility vest again before long.
---
There was an outcry last year after Persimmon announced that 140 staff would share a bonus pool of £500m and that its chief executive was in line for a payout of £110m, a figure that has since been reduced by £25m.
While the firm defended the payouts, saying they were a reward for success, critics say the tripling of the firm's share price since 2013 was in part due to government subsidies for new homes via the Help to Buy Scheme.
"I want to see planning permissions going to people who are actually going to build houses, not just sit on land and watch its value rise," she said.
"I expect developers to do their duty to Britain and build the homes our country needs."
Mrs May insisted that "tearing up" the Green Belt was not the answer to the UK's housing crisis and that existing protections would be maintained and, in some cases, strengthened.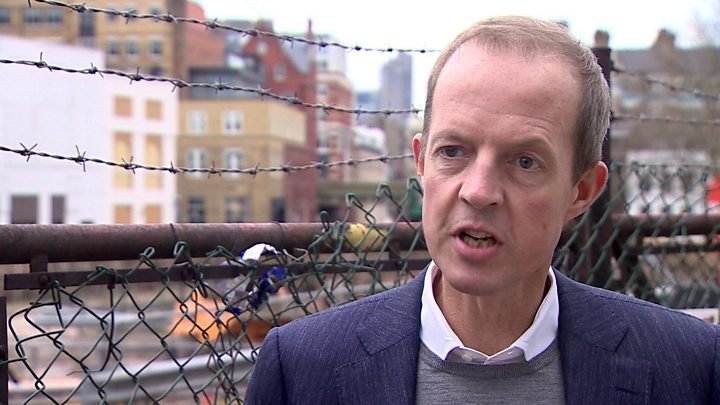 Councils will only be able to amend Green Belt boundaries if they can prove they have fully explored every other reasonable option for building the homes their community needs.
The Local Government Association said it was wrong to blame councils as they were approving nine out of ten proposed developments and yet more than 420,000 homes with permission were still waiting to be built.
"No-one can live in a planning permission," said its chair Lord Porter.
"Developers need to get on with building affordable homes with the needed infrastructure and councils need greater powers to act where housebuilding has stalled."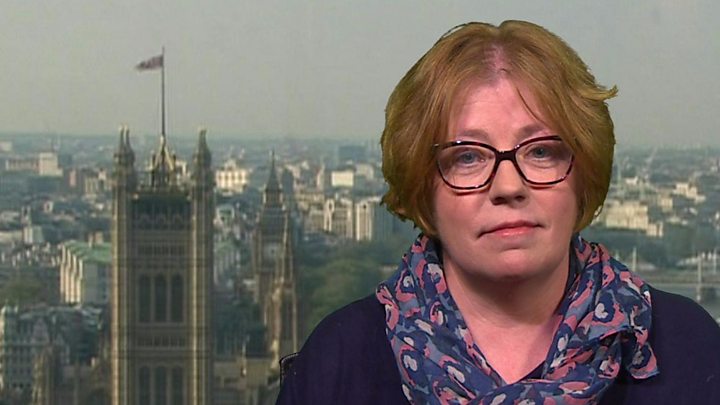 The Institute for Economic Affairs, a free market think tank, said the PM was only "tinkering at the edges" of what was needed to boost the supply of new homes and the Joseph Rowntree Foundation said the "speech overlooked entirely the role central government must play… private developers and local authorities cannot do this alone".
Housing charity Shelter said Mrs May was right to close "loopholes" being used by developers to reduce affordable housing levels.
The Resolution Foundation welcomed the call for local government and housebuilding firms to do more, but also said the government needed to do more and said it was now "time for action, not just discussion" on private renting
In her speech the PM also said homelessness was a "source of national shame" and £1bn was being spent to halve rough sleeping.
Housing policy is devolved in Scotland and Wales. The Scottish government has pledged to build 50,000 new affordable homes by 2021 while the Welsh government launched two schemes last week designed to help more people onto the housing ladder.